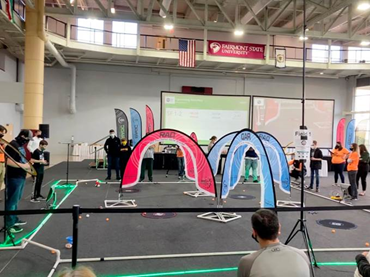 Aerial Drone Signature Event
The Education Resource Center (ERC) at NASA's Katherine Johnson Independent Verification and Validation Facility (NASA IV&V) hosted a middle and high school aerial drone competition for teams of students from West Virginia and Ohio at Fairmont State.
According to Dr. Todd Ensign, program manager for the NASA IV&V Education Resource Center, "This is the largest aerial drone competition for middle and high school students in West Virginia and the country."
Students and volunteers from the West Virginia Deaf Service Center participated in the drone competition thanks to the support of the West Virginia NASA Space Grant Consortium, an organization of 12 academic institutions of which WVU is the lead institution.
"We are excited to be hosting face-to-face events again and we love having the chance to inspire children in this very meaningful way," Ensign said.
Through funding from the NASA WV Space Grant Consortium, the NASA IV&V Education Resource Center purchased drones, and registered two teams of students who are in foster care and participating in the First Star Academy and two teams from the West Virginia Deaf Services Center.
Javien Tibbs, a 10th grader at Parkersburg South High School participated in the drone competition at Fairmont State.
Tibbs attended a camp for deaf and hard of hearing students and worked on drone programming. He practiced flying drones at several practice sessions run by the West Virginia Deaf Service Center.
"My favorite thing has been being able to pilot the drone", Tibbs said, via an interpreter. Tibbs said that the drone competition has made him more interested in possibly pursuing a career in STEM. "I'm really interested in coding. We have a program at school where we get to learn to code," Tibbs said.
"All of us at the West Virginia Deaf Service Center have been discussing how important it is for our students to think about career and employment opportunities. We think that it is really important to help them reach their goals," Keith Simmerman, a coach for the team, said via an interpreter.
"I am appreciative of NASA and Fairmont State accommodating students with disabilities. They have really encouraged us to get involved and we are extremely grateful for that. They have helped instill positive feelings in our deaf students who often aren't included.", Simmerman said. All the practice paid off as both teams earned an invitation to the RAD World Championship to be held in Dallas, Texas in May 2022.