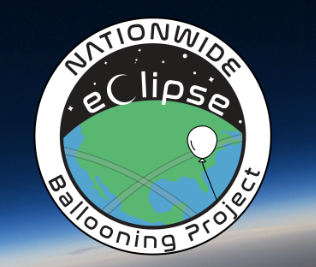 The West Virginia National Eclipse Ballooning Project (WV NEBP) team members will work with WV students and educators to participate in an innovative NASA-mission-like adventure in data acquisition and analysis through scientific ballooning during the 10/14/2023 annular and 4/8/2024 total solar eclipses. At sites along the eclipse path, student teams in the engineering track will use innovative larger balloon systems to live stream video to the NASA eclipse website, observe in situ perturbations in atmospheric phenomena, and conduct individually designed experiments. Atmospheric science track teams will make frequent observations by launching hourly radiosondes on helium-filled weather balloons. The annular eclipse will occur on October 14, 2023, while the total eclipse will occur on April 8, 2024. NEBP is supported by NASA's Science Mission Directorate Science Activation program and by NASA's Space Grant College and Fellowship program. (Award number 80NSSC22M0003)
Please click the embedded links to learn more about the West Virginia NEBP mission statement, participation opportunities, or the Nationwide Eclipse Ballooning Project.
Mission Patch Design Competition
Calling all creative-artistic students…WV NEBP announces a new mission patch design competition by providing West Virginia students the opportunity to participate in this challenge and submit their innovative design ideas to WV NEBP for a chance to win prizes and use it as the formal NASA logo for the high-altitude balloon missions. This is an excellent way for students to get involved in this exciting project and learn more about the science behind eclipses.

Submit an entry here
Deadline to apply: May 1, 2023
Send your name with the High-Altitude Balloons
WV NEBP invites you to send your name into the atmosphere with our high-altitude balloon systems that will be launched during upcoming partial and total eclipses.
Teacher Resources
Mr. Marcus Fisher, Trinity Christian School, and Ms. Candy Cordwell, WV Space Grant Consortium, are the mentors and lead the WV NEBP mission. Other participants include the students at West Virginia University, Glenville State University, and Trinity Christian School.
Want to participate in the WV NEBP? Don't hesitate to contact Marcus Fisher (mfisher@tcswv.org) or Candy Cordwell (candy.cordwell@mail.wvu.edu) to learn more.