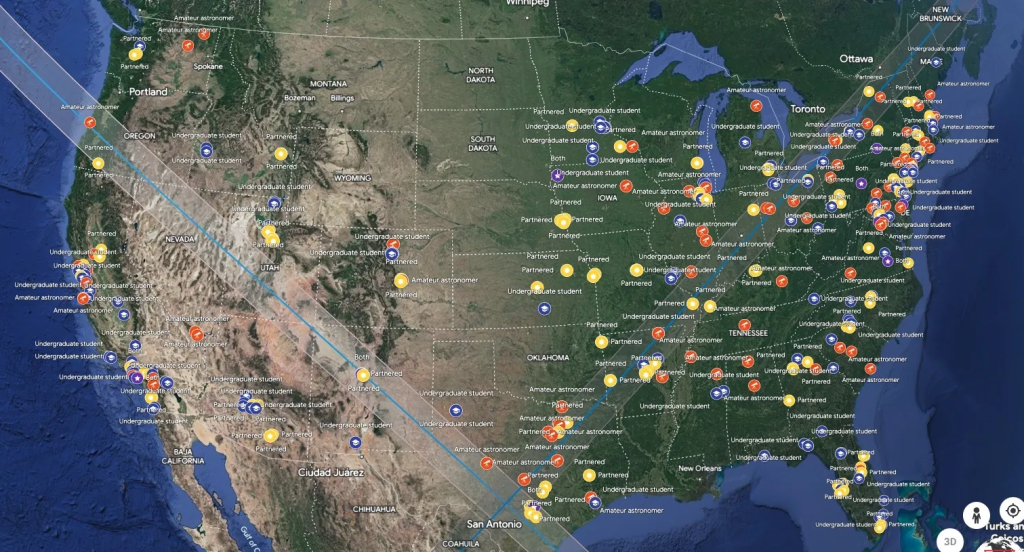 Do you love eclipses and want to share the wow of space science with your community? Apply to become a NASA Partner Eclipse Ambassador! 
In 2023 and 2024, two eclipses will be happening across the United States. In an exciting new partnership, Undergraduate Students and Eclipse Enthusiasts will engage their local communities, providing solar viewing glasses as well as context for underserved communities off the central paths.
Eclipse Ambassadors will receive everything they need to get the word out to your community – virtual training, resources including glasses, partnerships and a supportive community of eclipse enthusiasts. As a NASA partner, you will be recognized for your commitment to astronomy public engagement and supplied with educational materials as well as community connections. Note: all engagement is done to prepare your community before the 2024 eclipse – there is no obligation to host eclipse day events.
Eclipse Ambassadors will:
Become undergraduate + eclipse enthusiast partnerships (we can help!)
Take a self-paced online course together (total about 12 hours coursework)
Engage your community with eclipse resources – partnerships each reach 200+ people, with at least half of those from underserved communities
Become an Eclipse Ambassador!
Click here to learn more about participation requirements, program benefits, and to register.