Programs for College Students
WVSGC Programs for College Students
| | | |
| --- | --- | --- |
| OPPORTUNITIES | INFORMATION | DEADLINE |
| | These undergraduate fellowships are awarded by the applicant's college or university. The amount awarded varies for each institution. Please contact your WVSGC affiliate institution's representative (found under Board of Directors) to inquire about the amount of these fellowships. | Application deadline:  Monday, September 25, 2023 |
| | Provides state-level competitive funding for undergraduate students in a STEM discipline and enrolled in a WVSGC affiliate institution to become involved in a research project under the supervision of their academic advisor. One-year Fellowship during the academic year. | There are no Requests for Proposals open at this time.  Please check back November 2023. |
| | Provides state-level competitive funding for graduate students in a STEM discipline, enrolled in a WVSGC affiliate institution, and working on a thesis or dissertation with their research faculty mentor. One-year Fellowship during the academic year. | There are no Requests for Proposals open at this time.  Please check back November 2023. |
| | This is a ten-week, on-site internship program for NASA Centers and opportunities at WV high-tech companies within the state of WV. | Application Deadline:  Friday, October 20, 2023. |
Statewide and National Programs
Higher Ed Student Org Support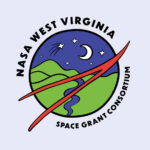 The NASA WV Space Grant Consortium is pleased to announce the availability of funds to support student organizations in STEM outreach activities, team projects, and participation in statewide and national competitions. This opportunity is ongoing with no application deadlines, and we will accept proposals on a rolling basis. Student organizations may request up to $2,000 in NASA funds to be matched 1:1 from non-federal sources (faculty mentoring is an acceptable form of match support). Click HERE for applications
WEST VIRGINIA SCIENCE PUBLIC OUTREACH TEAM (WV SPOT)
The West Virginia Science Public Outreach Team (WV SPOT) began in 2013 as a partnership between the Green Bank Observatory and NASA. We recruit and train WV undergraduates to bring presentations about current WV science, technology, and engineering to WV K-12 classrooms. Since inception, we have made over 800 presentations and impacted the lives of more than 25,000 students! To learn more, please visit the Science Public Outreach Team (SPOT) website.
First2 Network
First2 Network is committed to filling the gap in STEM jobs available and qualified candidates by supporting rural, first-generation, and other underrepresented college students during the first two years of college. They strive to help their student succeed in becoming qualified for STEM jobs by connecting students with their vast network in the STEM field. Learn more HERE!
NATIONAL LUNAR MISSION
Details about the Great Lunar Expedition for Everyone (GLEE) may be found on the GLEE Website.
Past Student Reports
Yearly publications of student reports from summer internships, the NASA Undergraduate Research Fellowship Program and the NASA Graduate Research Fellowship Program.

When I was 3, my mom asked if I wanted to become an astronaut – I said no; I wanted to be the person counting down from 10…
– Robert "Casey" Wilson, West Virginia University, 2014-2018