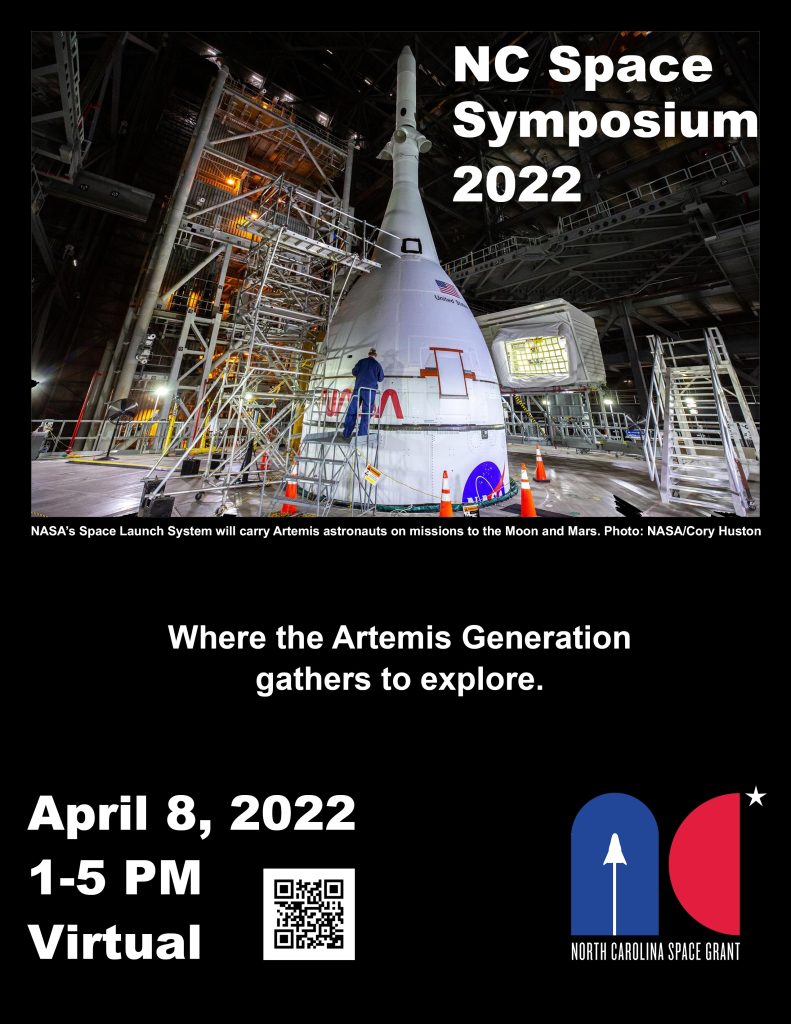 Our 2022 NC Space Symposium is taking place April 8 from 1 to 5 p.m. (eastern) on Zoom, and I invite you and your students/colleagues to participate! The theme of the 2022 NC Space Symposium is "Where the Artemis Generation gathers together to build for the future," and will feature presentations from a NASA official, space industry professionals, student lightning talks, and a career panel:
The keynote talk will be presented byElizabeth DiGiovannifrom NASA Langley Research Center, where she serves as senior advisor for the future of work.
The Research and Technology Applications session will feature presentations by NCSG alumni now working at Virgin Orbit, Smithsonian/Harvard Institute of Astrophysics, and NASA Goddard.
The lightning talk session will feature students from the 2021-2022 funding cohort who represent a variety of discipline areas from six universities.
Career panelists include representatives from Space Tango, NASA Ames, NASA Glenn, US Space Force, Sierra Space, and the NC Museums of Natural Sciences Astrophysics Lab. Panelists will discuss their educational pathway to a STEM career.
Guests will have a chance to ask their questions during Q&A at the end of each session, so don't miss this opportunity to network across a wide variety of STEM fields.
Beyond the virtual sessions, over 60 students are preparing pre-recorded lightning talks and posters that we will share on our symposium's web page and post on YouTube.
The NC Space Symposium is free to attend. Registration is open and will close April 8 or until full – so register today! Visit the NC Space Symposium website for more information.
Jobi B. Cook (she/her)
Associate Director, NASA/NC Space Grant
NC State University
850 Main Campus Drive, Suite 105
NCSU Campus Box 7515
Raleigh, NC 27695-7515
Phone: 919-515-5933